María Laura Bardotti is in control of everything. Men with boxes full of grapes are entering the winery one after another and she tells them to place the boxes on a pair of scales.
She controls the weight and enters it into the computer. 25 Kilo weights each box and María Laura knows exactly from which sector at Finca Adalgisa it's comming from.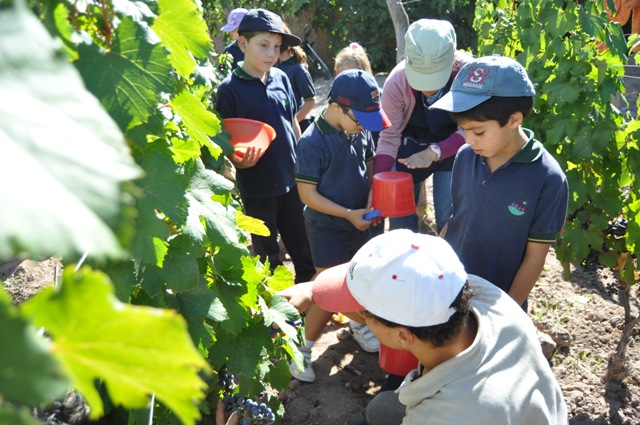 It's harvest time at Finca Adalgisa and everyone is busy. Harvest workers cut the Malbec grapes, put them into baskets and carry them through the narrow paths of the vineyard to the winery. After they were weighted, the leaves and those bunches which are not good enough are taken out manually. Then the grapes are seperated from the stalks and put into the tank for fermentation. Harvest at Finca Adalgisa usually takes two days and is done manually.
As every year a very special group of visitors was helping us with the harvest: pupils of from the Konrad Lorenz  School of Chacras de Coria. Here again, María Laura Bardotti is in control. She explaines them how grapes are grown, when they are ripe and how they are cut. Then they are ready to harvest.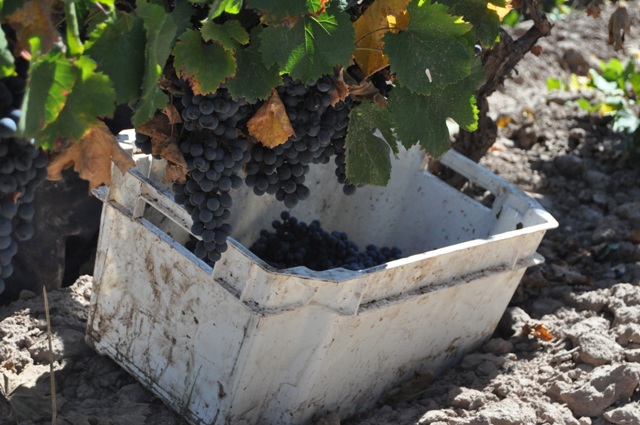 On aproximately 2 hectars Malbec grapes are grown on Finca Adalgisa. The grapes were planted by Gabriela Furlotti's great grandfather, almost hundred years ago. At the time it was a very traditonal vineyard in Chacras de Coria. When the immigrants, like Gabriela's great grandfather settled in Mendoza, they planted vineyards, but the also planted olive trees and fruit trees like peach and cherry in the vineyard to have more than one harvest per year. The small fincas however are disappearing in Mendoza.
As a tradition in Mendoza's small vineyards, harvest is also a social gathering. At Finca Adalgisa, this is not different. Friends come along to help cutting grapes. Everyone brings around his own pair of scissors. And around midday, when the harvest is finished, there is a huge barbeque for everyone who had helped. This is an old mendozinian tradition: you have to celebrate the harvest and thank every one who has helped you with it.
And what about the wine?
2013 was a very good year for Finca Adalgisa's Malbec. Aproximately 8000 kilos of grapes were harvested. Since the weather conditions were very good during the last season, the 2013 Malbec promises to be outstanding.